Singapore, 23 June 2023 – City Developments Limited (CDL), the National Parks Board (NParks) and Ocean Geographic (OG) launched the third edition of the Climate Action Exhibition series, themed "Melting Ice, Sinking Cities: An Urgency to Change the Present and Save Humanity". Held at the refreshed CDL Green Gallery, Singapore's first net-zero gallery located at the Singapore Botanic Gardens, the exhibition will run from 23 June 2023 till March 2024, in support of global and national climate action. Visitors are invited on a journey to the Antarctic, where climate change, rising temperatures and melting glaciers threaten the well-being of life across the globe. It also highlights Singapore's commitment to preserving our rich marine biodiversity and coastal resilience. By showcasing the interconnectedness of climate change and the health of our ocean, people, and the planet, CDL, NParks and OG aim to raise awareness and inspire action for positive change. The Gallery, which has been recently refurbished by CDL to improve energy efficiency and enhance visitor experience, has hosted several exhibitions on biodiversity, climate and sustainability-related subjects since its opening in 2013, with "Melting Ice, Sinking Cities" being its 20th exhibition.
The exhibition was officially launched by Ms Indranee Rajah, Minister in Prime Minister's Office, Second Minister for Finance and Second Minister for National Development. She was joined by world-renowned marine biologist and oceanographer Dr Sylvia Earle, who led the Antarctic Climate Expedition (ACE) 2023, which involved thought leaders in the fields of science, art, education and economics alongside teenagers and corporate executives, to develop creative strategies to protect our environment and oceans. During the event, CDL and NParks representatives prepared two letters each on their wishes for the planet and future generations and placed them in a time capsule alongside letters written by 120 ACE 2023 members. The letters will be opened in the years 2050 and 2099 respectively, as a progress marker for achieving collective net zero goals by 2050 and a glimpse into the hope for a better planet for future generations by the end of the century.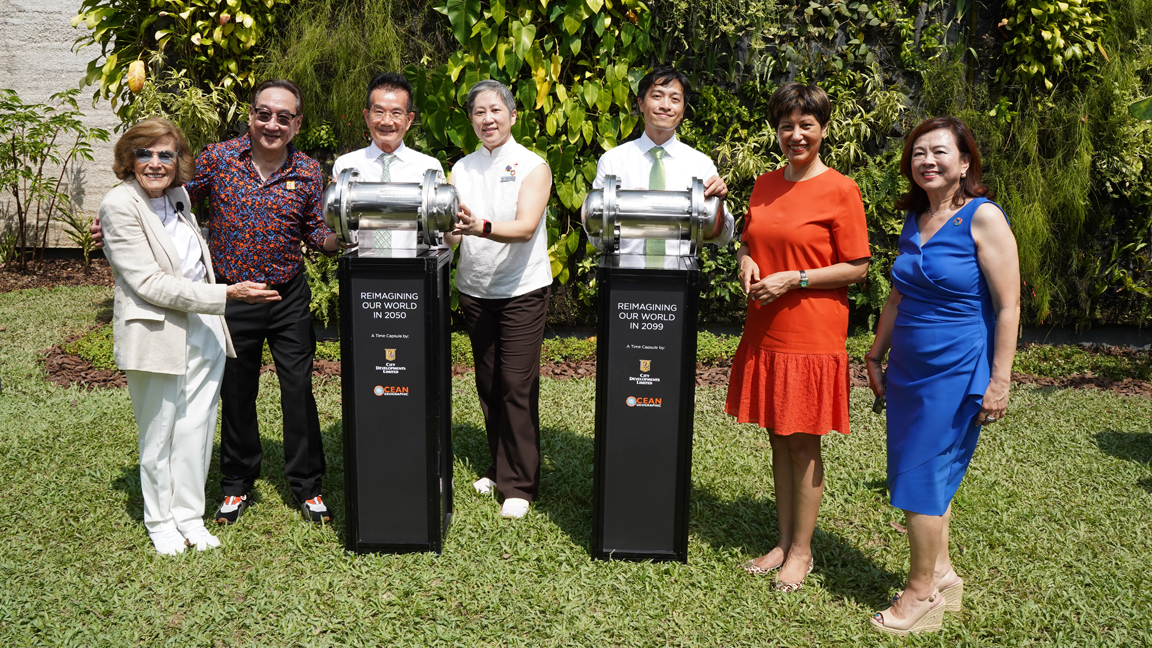 The exhibition features five zones:
1. A Global Climate Emergency: Spotlighting the Antarctic – The perspectives and aspirations that 120 ACE 2023 members are committed to raising awareness for and rallying transformative actions for ocean-focused climate solutions
2. An Urgent Call for Collective Action: A Blue and Green Planet – Key learning highlights from ACE 2023 to illustrate the interconnectedness between the blue and the green economies
3. Local Action: Marine Conservation in Singapore – Exemplifies what each state actor, the public and private player can do, including NParks' commitment to marine conservation and efforts to enhance coastal resilience.
4. CDL's Climate Action: Advancing A Low-Carbon and Resilient Built Environment – CDL's pioneering sustainability efforts and track record in the race towards Net Zero Carbon
5. The Remains of the Antarctic 2023: Splendour and Hope – Showcases breathtaking photos and videos from ACE 2023 members, OG and partners, underscoring the threats to the ocean and marine life from the ACE expedition (please refer to Annex A for visuals and details)
Mr Kwek Eik Sheng, Group Chief Operating Officer of CDL, said, "As a developer, CDL has helped shape our nation's cityscape with sustainable developments, in line with our ethos of 'Conserving as We Construct'. For nearly 30 years, we have been creating innovative green spaces, including this CDL Green Gallery – Singapore's first net-zero public gallery, promoting climate action through education. As we celebrate CDL's 60th Anniversary this year, we remain dedicated to supporting Singapore's vision to be a City in Nature by engaging our stakeholders and the community. Through our participation in the recent ACE 2023, we witnessed first-hand the acute impact of climate change and the urgent need for businesses and the community to take collective action to protect our planet."
Held in conjunction with CDL's 60th anniversary celebration and in commemoration of 60 years of greening Singapore, this exhibition signifies a strengthening of NParks and CDL's decade-long partnership for the CDL Green Gallery, which will remain as a platform, free for all visitors to learn about global climate and nature-related issues. CDL has committed to extend the partnership with the Garden City Fund for another 10 years, with a S$1.5 million donation for the refurbishment of the gallery, and to enable more exhibitions and related engagement programmes for the Singapore Botanic Gardens visitors.
Professor Leo Tan, Chairman of the Garden City Fund, NParks' registered charity and IPC, said, "CDL's support and friendship over the last decade has provided us with an environmentally-friendly space, as well as exhibitions like 'Melting Ice, Sinking Cities' that create greater awareness of the need for greater coastal resilience; and how we can all be part of the solution by making small lifestyle changes. Over the last decade, the CDL Green Gallery has become a well-used educational facility that has attracted over 350,000 visitors. As we commemorate 60 years of greening Singapore this year, we are happy to continue our partnership with CDL and thank them for contributing S$1.5 million (in cash and in-kind) towards refreshing this Gallery for visitors and enabling quality exhibitions and programmes to be held here."
In line with the thematic focus on climate action, all the energy required to run the exhibition and its energy-efficient multimedia fixtures is offset by on-site solar generation and off-site renewable energy. To extend its outreach, a virtual exhibition is also available on the CDL Sustainability website (www.cdlsustainability.com) for overseas visitors.